During the nineteen sixties, the American History took a step further, as the segregating « Jim Crow Laws » were ceased, resulting in the fact that all American citizens, including African-American communities, as well as all the « people of colour », were put on the same level of equality, opportunty and justice. As the harvesting of all actions, commitments and speeches held by the politicians, artists, writers and activists of the Civil Right Movement, including many people who indulged themselves and struggled tenaciously to achieve their purpose, resisting to all kind of coercion to own these rights, this ceasion represents the first historical turning point; for instance, Martin Luther King Jr, and his honored « I have a dream » speech.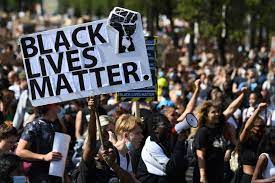 However, fifty years later, dozens of thousands of activists protest because the community they adhere to feels attacked and vulnerable under the fire of the police's gunshots, while they are defenseless. This injustice, that embodies the outcome of the racism and brutallity, is the reason leading nowadays' activists to claim their rights to feel safe in the streets of their own country, following the non-transparency of the justice system towards white policemen.
The governement's lack of deed and official action, considered as contempt by the power brokers, aroused the spread of « Black Lives Matter » movement, showing once more the breadth of the act, taking it to the online field, as the hashtag was trending on Twitter for several months.
The spark that started all this fire emanated in February 2012 when George Zimmerman, a policeman, murdered unarmed seventeen year old Trayvon Martin. Initially the policeman was not charged by Sanford Police. Nonetheless, he was charged with second-degree murder and manslaughter after a public outcry,. The Black Lives Matter movement officially started when Zimmerman was later acquitted of murdering Martin.
Once taken online, the movement witnessed an increase of activist, from all corners of the world that support the cause and help as much as they can through financial aids and more ways. Although the BLM sounds familiar in terms of claiming and mobilization, this movement shakes history and reminds that the activists' condition is still really far from what expected Martin Luther King Jr in his unforgettable speech, and points out that his dream has not been fullfilled, shattering the hopes of many African-Americans to live freely and feel secure, undominated and equal in justice aside of the rest of the American citizens, in the land of milk and honey.